Event Analyzer
---
The Event Analyzer tab provides information about events caused by wireless end-points connecting to your network.
You can access the tab in a number of ways and the information presented changes depending on the method you use:
Navigating via Wireless > Clients > Event Analyzer shows all end-points.
Selecting a Location on the Wireless > Clients tab opens the Event Analyzer for the end-points that occurred for all APs in that Location.
Selecting a MAC address on the Wireless > Clients tab opens the Event Analyzer for only that end-point.
When accessing the tab using the top two methods, a Clients section is available in the left-panel. This section provides you with the ability to display end-point events for specific AP locations.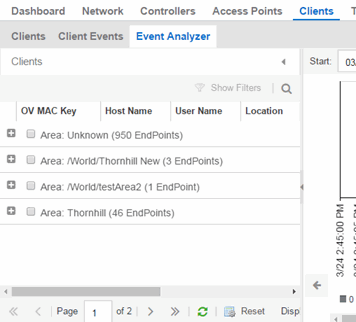 Once you select the appropriate end-points or areas, this section can be collapsed by selecting the left arrow.
The top of the tab contains a graph displaying the RSS (Received Signal Strength) for the end-point events.
The bottom contains a table showing information about each event.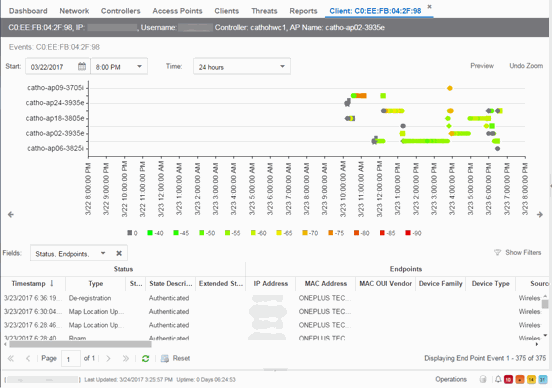 RSS Graph
The RSS graph at the top of the tab shows the signal strength (in dBm) between the end-point and each of the APs to which it connected. The shape of the end-point event indicators in the graph indicate the type of event.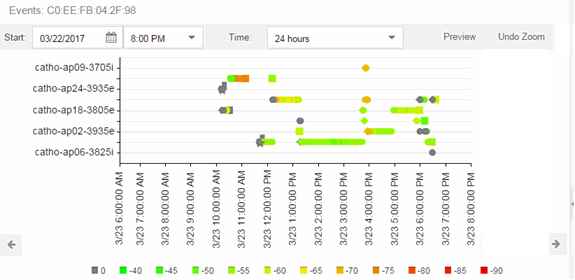 Events Table
The Events table at the bottom of the tab contains details about the end-point events for your network, or for the wireless location or MAC address you selected.

Use the Fields drop-down list to select groups of columns to display in the table:
Select Status to display the following columns in the table:

Date/Time
Type
State
State Description
Extended State

Select Endpoints to display the following columns in the table:

IP Address
OV MAC Key
MAC Address
MAC OUI Vendor
Host Name
Device Family
Device Type
Source

Select User Access to display the following columns in the table:

User Name
Policy
Authorization
Profile
Reason
Auth Type
Registration Type
RADIUS Server IP

Select Location to display the following columns in the table:

Switch Port
Switch Port Index
Switch Location
AP Name
AP Serial #
BSSID
SSID
Protocol
Location Type
Location
Location Details
Area Type
Area

ExtremeControl

Engine

/Source IP

Select Metrics to display the following columns in the table:
Select Threat/Risk to display the following columns in the table:
Select Network Service to display the following columns in the table:
---
For information on related ExtremeCloud IQ - Site Engine topics: