Endpoint Locations
---
Use the Endpoint Locations tab to view and define the geographical locations of sites and subnet addresses in your network. When the geographical locations are defined, flows on the Application Flows tab display geographical information depending on the device on which the flow is observed.
To access the Endpoint Locations tab, navigate to Network > Devices and select Sites in the left-panel. The Endpoint Locations tab displays in the right panel.
| | | |
| --- | --- | --- |
|   | IMPORTANT: | To map existing locations to sites, access the Devices tab and select a site. Select the Endpoint Locations tab in the right-panel. Locations that are not yet associated with a site contain a broken link icon () icon. Right-click the location, select Assign to Site, and select a site from the drop-down list. |
Select the Add Address button at the top of the table to add an additional address to the table. Select the Edit button to modify a selected address of a site in the table. Select the Move button to move an address to a different site in the drop-down list. Select the Remove button to delete a selected address or site from the table. These options are also accessible when you right-click an address in the table.
Select the Menu (

) button to import or export the Endpoint Locations table to a CSV report.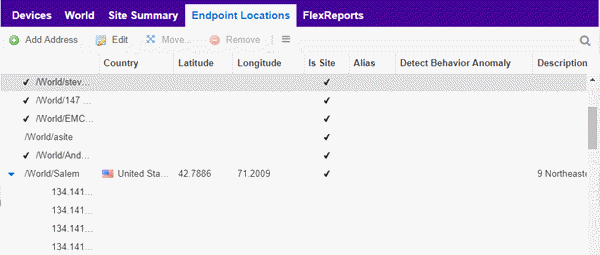 The following columns are displayed in the Endpoint Locations table:
---
For information on related help topics:
For information on related topics: