Firmware
---
The Firmware tab allows youto upload firmware and boot PROM images to ExtremeCloud IQ Site Engine and assign them to the devices on your network.
To access the Firmware tab, open the Network tab and select the Firmware tab.
The tab is divided into three sections: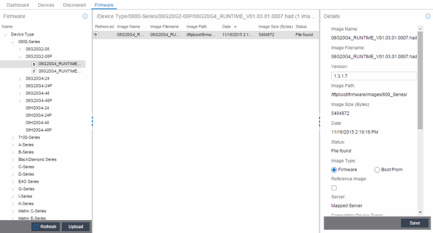 Firmware Tree
The Firmware tree in the left panel displays firmware and boot PROM images grouped according to product family and device type. It provides pre-defined firmware groups and automatically organizes the images stored in your firmware directory under the appropriate group when you perform a firmware discovery or refresh. The Unknown folder contains images that ExtremeCloud IQ Site Engine could not correlate to a device type.
Device Type Images Section
The Device Type Images section displays the firmware and boot PROM images that match the device type selected in the Firmware left-panel. To save a firmware or boot PROM image to a device, select it from the list and save the image to the device in the Details section of the Firmware tab.

Details Section
The Details right-panel displays additional information about a device type or a firmware or boot PROM image, depending on what you select in the left-panel or in the Device Type Images section of the window.
Device Type Details
Selecting a device type in the Firmware Tree left-panel opens the details for that device in the Details right-panel.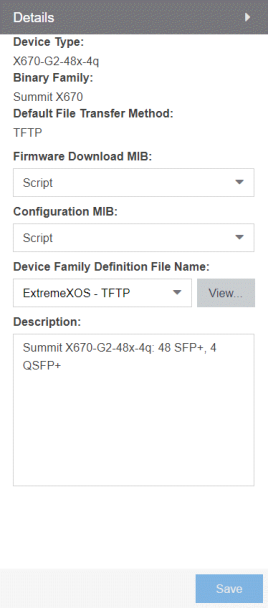 Select Save to save any changes.
Firmware/boot PROM Image Details
Use this section to edit the version number of the image, the type of image (firmware or boot PROM), and enter a description for the image.

---
For information on related help topics: