Impact Analysis Dashboard Overview
---
Use the Impact Analysis Dashboard to view a real-time summary of Availability, Performance, Capacity/Health, Configuration, and Quality data for your network. To access the Impact Analysis Dashboard, navigate to the Network tab and select the Dashboard tab.
Select the report button (

) to open the Impact Analysis Report page window in the Reports Designer tab.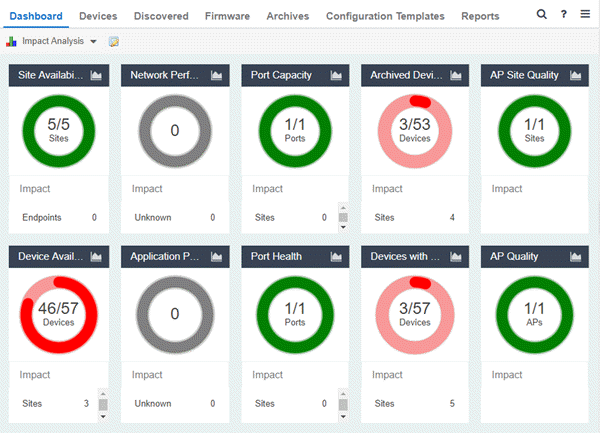 Charts
The dashboard provides you with ring charts and data that identify the scope and scale of faulting elements in the network or site. Charts display a name and impact status for a particular factor, and are updated automatically when conditions change.
 
NOTES:

A network element is considered "faulting" if it is non-optimal relative to a certain factor; for example, a device that has not been archived recently or an application that is responding poorly.

A network element is considered "impacted" if it has a relationship to a faulting element which might affect its operation; for example, an endpoint connected to a device that failed.
The center of each chart contains a ratio of the non-faulting elements compared to the total number of elements. Hover over a ring color to display a complete description of the ratio. ExtremeCloud IQ - Site Engine uses these ratios, converts them to a percentage, and uses them to determine the impact status. Below each chart is an Impact Summary, which displays the network elements impacted by any faulting elements.
The Impact Status is reflected by color:
| Impact Status | Color | Description |
| --- | --- | --- |
| Low | | None, or few, faulting elements |
| Medium | | Some, but not many, faulting elements |
| High | | Many faulting elements |
The thresholds that determine the Impact Status (Low, Medium, or High) for each chart is configurable in the Impact Analysis options on the Administration tab.
When the Impact Status changes for network elements (e.g. device availability changes from Low to Medium or from Medium to High), an event is generated and is available in the event log on the Events tab.
---
For information on related help topics: