Maps Overview
---
The ExtremeCloud IQ - Site Engine Maps feature on the Network > Devices tab enables you to view and search maps of the devices on your network. Use maps to view network connections and alarm status. You can also search for devices, APs, and wired or wireless clients. .
ExtremeCloud IQ - Site Engine supports the following types of maps:
All maps work the same way in terms of creating new maps, and deleting or renaming existing maps. The way that you add or delete devices to a map is also the same for all maps.
To view or search Maps, you must be a member of an authorization group assigned the OneView > Maps > Maps Read Access or Maps Read/Write Access capability.
Accessing Maps
Access the Network > Devices tab and select Sites from the left-panel drop-down list.
Sites are groups of devices that share a configuration. Within each site, you can add maps for devices, depending on their physical location.
When opening the World map for the first time, the map is blank. As you create maps, add links to them from the World map as shown in the diagram below, allowing you to find individual maps quickly from one map.
Navigating Maps
Selecting a map in the left-panel provides you with tabs at the top of the right-panel that allow you to view information about the devices included in the map: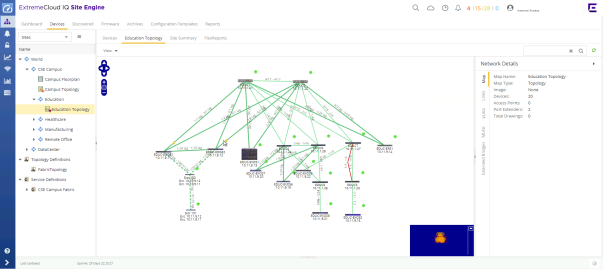 ---
For information on related help topics:
For information on related topics: